On Saturday April 10, 2010 Fate intervened.
Just the day before I received my usual emails about local dogs/cats in need of homes. I've been on a couple mailing lists of that sort for awhile now. One of the emails included a flier showing 6 dogs at animal control, 3 of whom only had 48 hours to live. Friends of Jacksonville Animals was going to be showing the dogs at the Southside Petsmart the next day, hoping to find them homes. I admit to looking at the doggies, closing the email, and proceding to work the rest of that Friday. After all, I already had three dogs and two cats.
Saturday I had an eye appointment in the Town Center. I planned, still not thinking about the dogs awaiting death, to stop at the PetSmart there to pick up a few items for my photo shoot the next morning. However, I also had a hair appointment the same day and ended up not having enough time to run into PetSmart. After my hair appointment, my brain went on autopilot and I was halfway home before I remembered that I needed dog treats for the photo shoot! But I decided to come on home, gather up Max, and take him with me to the store. He loves to go for car rides!
I'm sure you can guess which PetSmart just happens to be closest to my house. Yes, Southside.
As we walked up, I actually saw a dog being adopted. I remembered the email about now and so I asked if she was one of the dogs in danger. Sure enough! Yay for that puppy! Max and I continued into the store and the woman whom I had asked about the pup asked if I was there to adopt one myself. I explained how many animals I already had and she quite understood! I went into the store and picked out my treats. But then I saw the dogs so I had to at least go give them a scratch behind the ear. One particular puppy was out and wearing a little cape that read, "Please adopt me". He was very sweet and seemed to like Max and was literally a puppy at about 10-ish months old. I still managed to go make my purchases and get in the car and start my drive home.
About halfway home, something in me snapped and I began to cry. Those puppies were so young and hadn't had a chance to live and they were going to be put down the next day! I called my husband, who is just as big a softie as I am, and he listened to me blabber on about the dogs. I got home and even opened the email with the flier again. It said the group would be there from 10 am until 2 pm. It was already 2:15.
I called the store and the person who answered thought the group might already be gone but he was kind enough to check for me. They were still there and planning to stay until 3! So, yes, I got back in my car and sped off to the store. I got there at 2:45. Jones, who we have named Chester after that Looney Tunes cartoon with Spike the Bulldog and Chester who always wanted to play, was still there. He was one of the three in danger, only one who had been adopted so far. I didn't have to think twice. I began filling out the paperwork to take him home with me. And thank goodness the other dog in danger was adopted out right then too or I might have had even more dogs in the house!
Anyway... meet Chester!
The first day I brought him home, playing with Max in the backyard: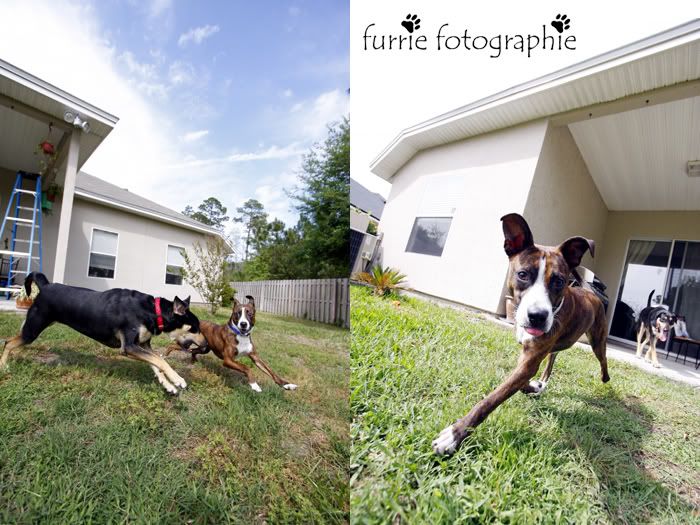 Sniffin' things with the boys: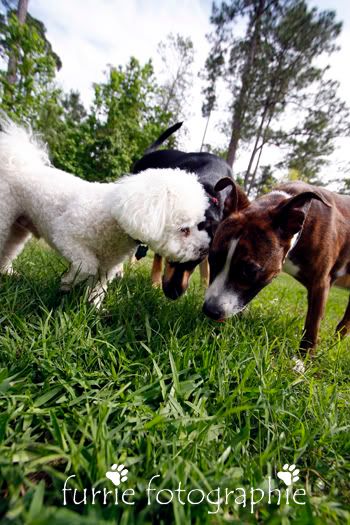 The next day... on the way to the dog park for the first time (at least that we know of):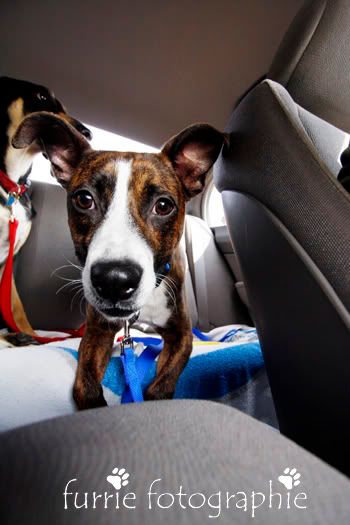 Following Max around. We like to joke that *I* didn't get a new dog... Max got a new dog!
First bath after getting dirty at the park!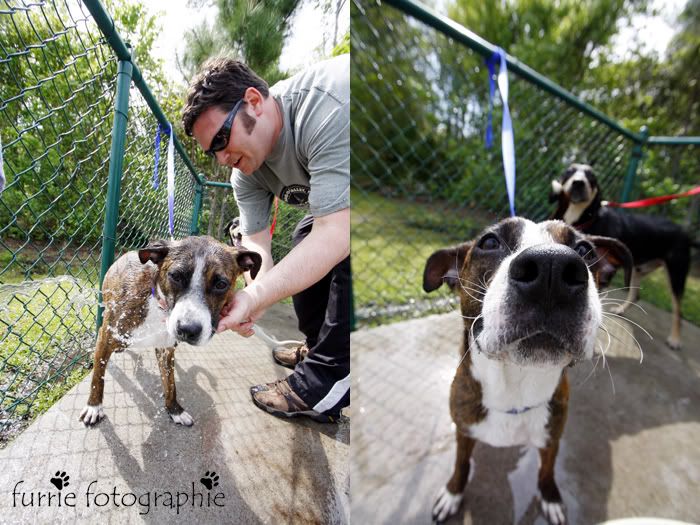 Worn out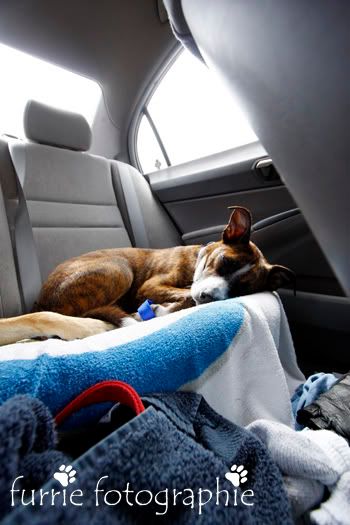 Me and Chester!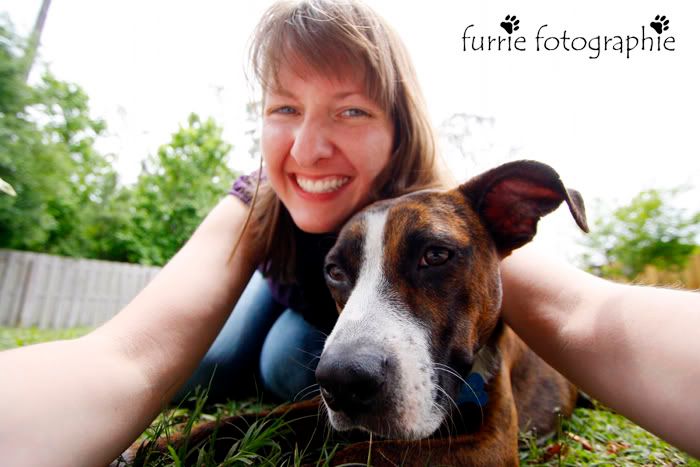 Can you blame me for loving this face??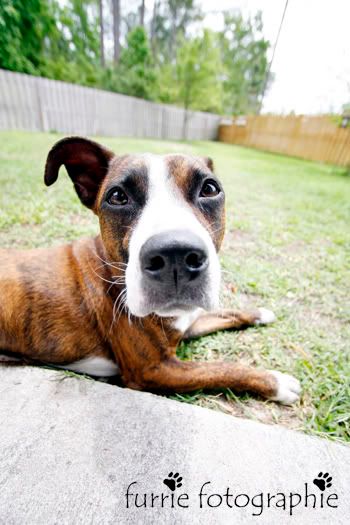 Chessy's butt... but it's such a pretty brindle bootie!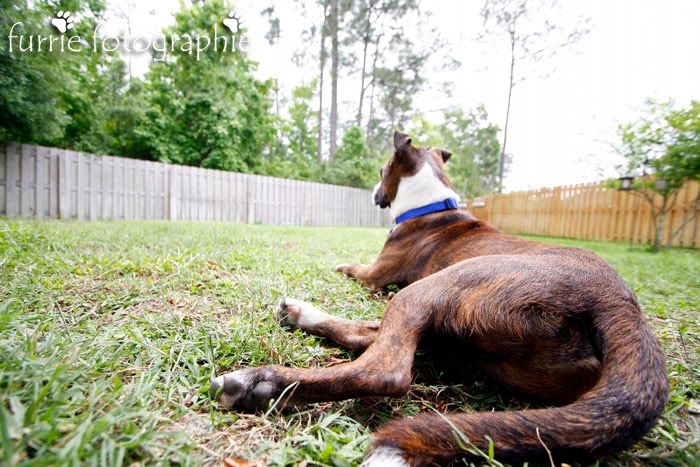 We discovered that Chester likes to "attack" water while trying to clean off the dog tracks all over the patio! The photos don't do it justice... hilarious!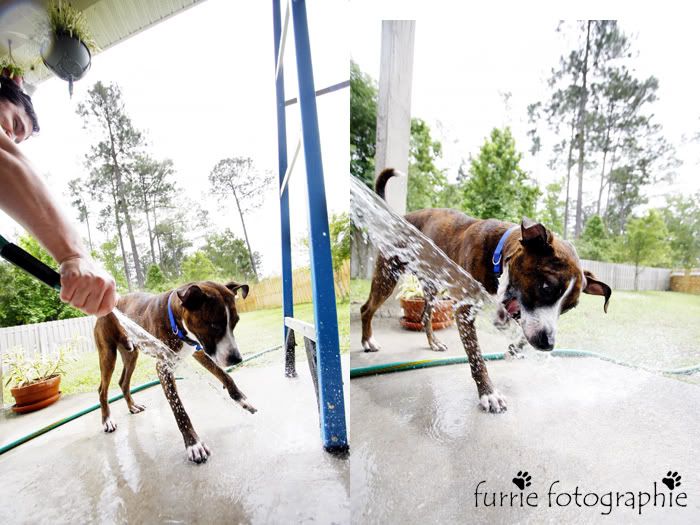 Play time!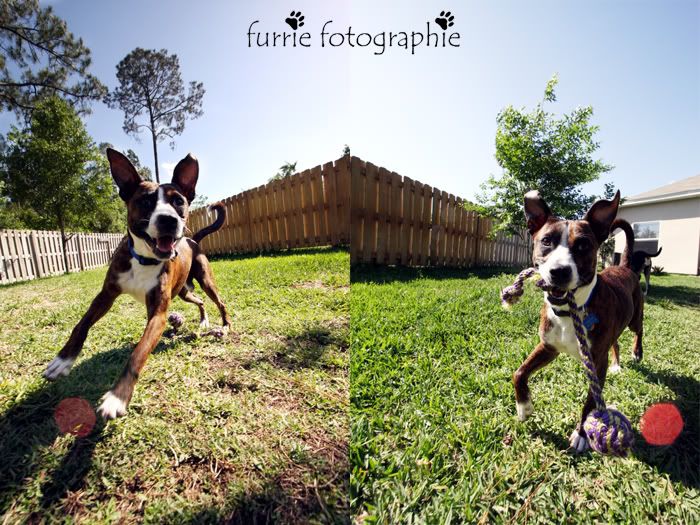 He loooooves his rope toy!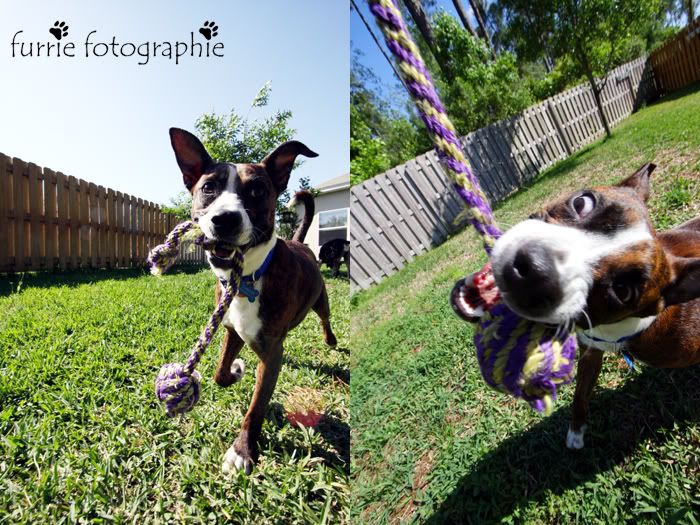 And, goodness, he can JUMP!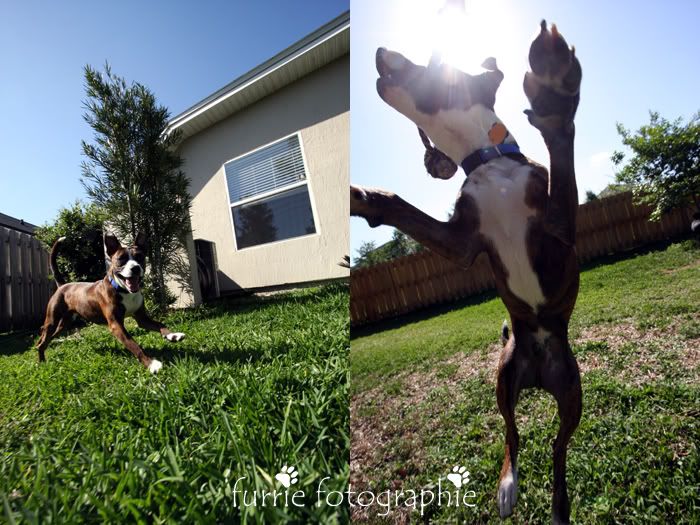 A rare moment caught on camera!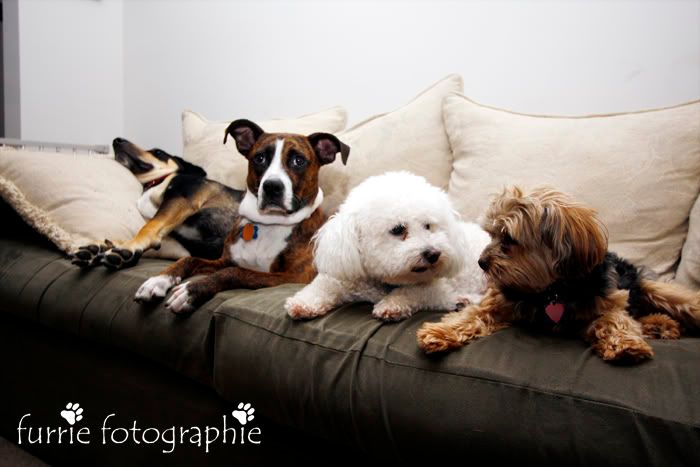 So... no more sending me emails of homeless animals. I just can't bring any more home but neither can I just let be. And I don't think I'm allowed at PetSmart on adoption days anymore (that just happens to be where we got both our cats from Lucky Cat Adoptions too)! But I love Chester even when he's driving me bonkers and I am soooo super happy that we saved him! I definitely recommend adoption if you are looking for a new furrie friend... plus if you adopt from a shelter and mention this blog post I'll give you a free 8x10 with your photo session! : )
Share