You'd be all wonky too if you had one of these: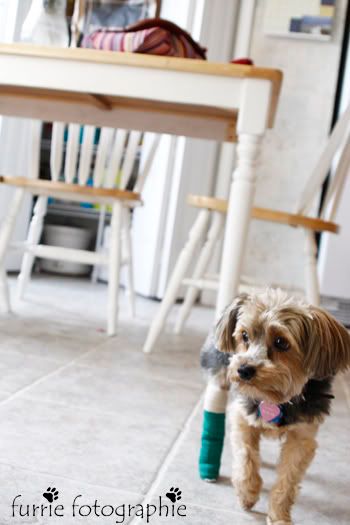 It's a "splint" on her little back leg... when I let all three monsters out after work yesterday, Apple was her usual crazy self running all over the yard like a mad woman! But when we came back in and I sat down to watch some tv I noticed she was laying next to the couch funny. So I called her over to me and saw she was favoring that leg, not wanting to put it on the floor. I picked her up and she was twitching so I called my husband (who was at work) in a bit of a panic since one of my neighbors once told me his dog was bit by a water moccasin and I was afraid something like that had happened!
Fortunately we have an awesome vet... go San Jose Beauclerc Animal Hospital!... who was nice enough to stay and see Apple. They close at 6 and I got there at 6:05 but they knew I was coming.
They think poor Apple tore some ligaments. So they shaved her leg and wrapped it up tight in the green bandage you see there. And she's supposed to relax... no running and playing. Yeah... today she's already barking out the back door at the birds and jumping up on the bed...
But she goes back in a week to be checked and they said it could take 3-6 weeks to heal. Keep your fingers crossed that it heals properly or they will have to refer us to a surgeon!