Things we know about Max...
~He's got a gorgeous face.
~He loves to shake paws. So much that if we don't acknowledge it, he'll shake with BOTH paws!
~He's housetrained...
~He gets really excited when you come home from a day at work and sometimes (really it's only happened twice) he pees a little.
~He's great with other dogs. Even our two little ones.
~He ignores cats! Thank goodness... I'd hate for Uni to rip his nose off should he chase her.
~He's fantastic with kids! He lets them pet him and crawl on him and he never gets upset or jumps on them.
~He definitely knows how to work those big brown eyes. He knows that if he lowers his head and looks up at you (me), he'll get whatever he wants.
~He recently discovered the pond at the dogpark. He jumps through it like a deer... it's a riot!
~He needs a home with wonderful people, perhaps another big dog to play with, and a yard.
Please read his story which I will post at the end of the photos...
We aren't in a hurry to find him a home. We want to make sure it is a good one. And we are a bit attached now that we've had him almost a week and a half.
These shots are from our outing last weekend. We took him over to my in-laws' because they have a fenced in yard. I have more photos from around the house and also from the dogpark. I have to send my camera in to Canon to have the screen fixed tomorrow so maybe I can finally catch up on editing rather than just taking more and more photos. I have over 500 from the dogpark!
Max doesn't generally show a lot of interest in balls... but he seemed to be curious about this tennis ball so I threw it a few times. He would run up, sniff it, and then run back... without it. After doing this a few times, he finally decided that he would play along!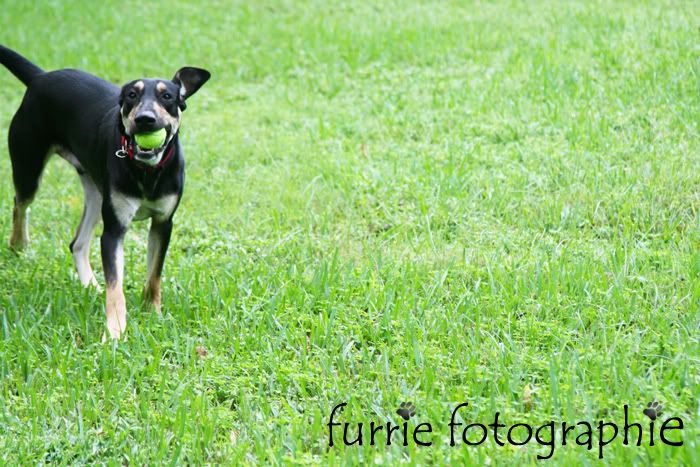 Chris' brother and sister in law live behind his parents... they have a big pup named Sam. Here are Max and Sam meeting for the first time:
It appears that Sam decided that Max was okay... I love the look on Max's face!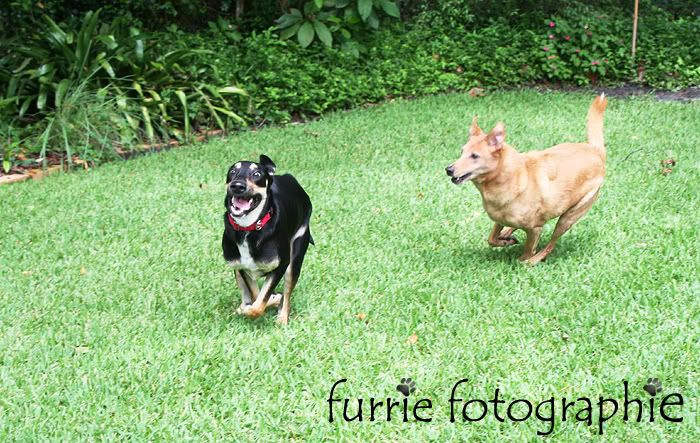 Isn't Sam gorgeous?!
Here are a few that give you a better idea of Max's size... and he's under a year old by our guess. His feet are huge still!
Max and Malisa and Mary...
Worn out...
And ready to go home!
Okay... so Max's story. I'll try to keep it short-ish.
I work for the National Park Service... definitely the only disadvantage to working there that I know of is the fact that it tends to be a place where people dump animals. Max isn't the first dog I've brought home.
Last Friday, one of the guys on our maintenance staff calls me and informs me that they have a "puppy" over at the shop. I'm a mush ball so I go over to check it out. Said "puppy" is HUGE! And has a collar. And is clean and well behaved...
So I take some pictures of him, make a sign, and we pass it out to the vet down the road and the grocery store in the area... as well as hang it in the park. I'm CERTAIN that he's just lost. But it's Friday at 4 pm and we are about to close up and I can't stand to just leave him out there... so I bring him home.
My husband and I took him to our vet to see if he had a microchip... and he did!! So then I call the microchip company to find his owner.
Well... the owner had a block on his account so the microchip company is only allowed to give his information to shelters or vets... not to individuals. Weird... you'd think they would just want their dog back! But that's okay... the microchip company called the owner to leave a message. Ummm... yeah. The cell phone they have for the owner now has a voicemail with a different name and a company name. They leave a message anyway with our information.
The weekend passes and we hear nothing.
Monday I called again. This time they suggest that we get our vet to call in, get the owner's info, and tell us. They also send the owner an email.
Tuesday we get the owner's name. I'll call him J. We also get his address and his cell phone number.
We looked up his address and it's a condo but there was no unit number for him. So we went there. J wasn't in the directory at the gate but someone let us in and there were no signs hanging around the mailbox for a lost dog or anything.
So then we used his name and address to look up his home number. It was disconnected.
The cell phone was a business cell phone so my husband went to their offices. J used to work there but does not any longer... so when Chris explained why we were looking for him, they pulled his file and called the numbers they had for him too. Disconnected.
My optimism for finding the owner is gone. I think he had something come up so he ditched the dog and left town. It doesn't make a lot of sense to me because Max was so obviously well taken care of. He's fixed, well-mannered, and sweet as can be.
So we still have him. We took him to the dog park with our friends yesterday and he had a great time. We are still saying we want to find him a home with a yard but I guess we aren't in too much of a hurry. He's really SUCH a good dog. I hope we can find him a good home... but it's going to be harder and harder the longer we keep him.
Maybe he can be the Furrie Fotographie mascot!! : )